MAMBASNAKE C01 Gaming Keyboard Cable, Coiled Aviator Cable Type-C to USB-A, with Detachable Metal Aviation Connector, TPU Cables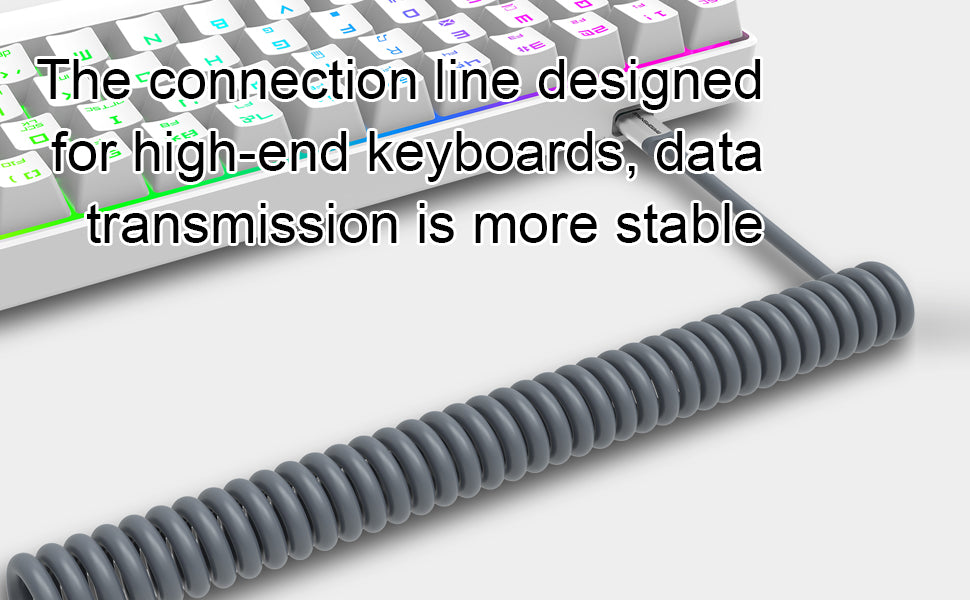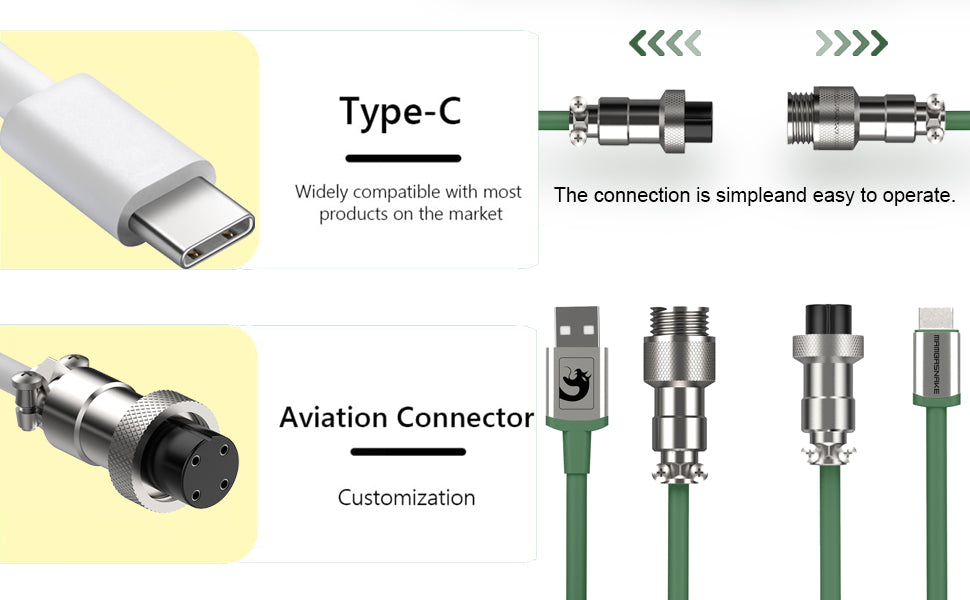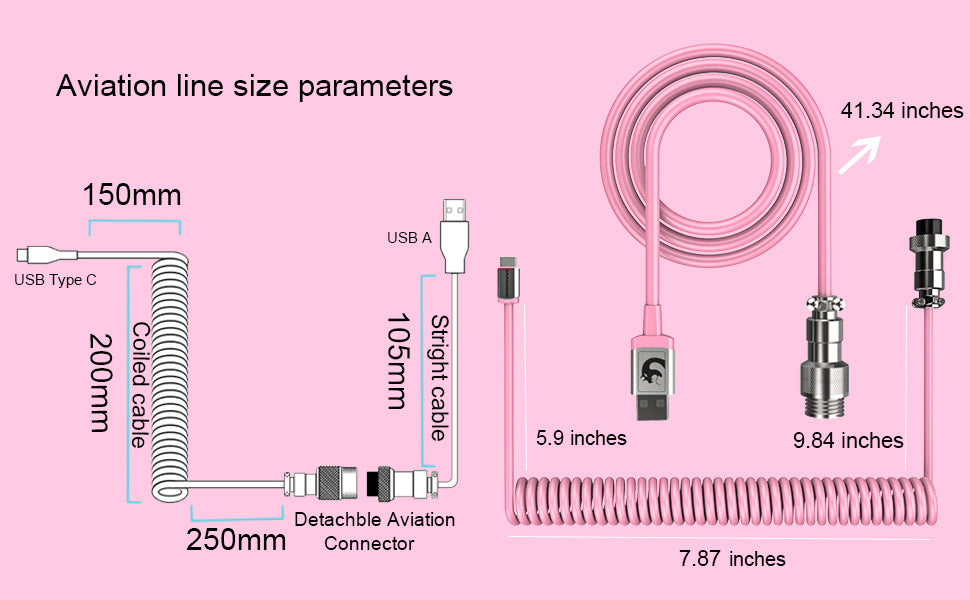 【Detachable metal aviation keyboard connector】The pilot connector adopts a detachable design, a unique and sturdy interface, which reduces signal loss, lossless transmission, and one plug and play. Lets you quickly connect different cables to keyboards or other accessories. The plug-in adopts self-locking structure, which is convenient to replace different interfaces. It also makes your keyboard look cool!

【High-speed charging and data transfer synchronization】USB-C to USB-A data cable supports safe fast charging and data synchronization speed, simple male-to-female connector ensures stable connection, extendable USB data cable is compatible with most USB C Mechanical gaming keyboard or printer, PS4, Switch game console.

【Coiled Type Keyboard Cable】Professional reverse-wound coil technology makes the coiled USB C cable have a better rebound effect, preventing the coil from being damaged by excessive stretching. And provides the perfect length for connecting a gaming keyboard without tangled cables.

【Applicable Length】The mechanical keyboard cable is designed with two parts, one part is coiled and the other part is straight. The coiled part is about 7.87 inches long (can be stretched to 51.18 inches), the coiled part is about 5.9 inches to the Type-C interface, the aviation head is about 9.84 inches, and the other part of the aviation interface to the USB-A interface is about 41.34 inches in total length. It's pretty long anyway, so you don't have to worry about short lines.

【Superior Quality】This coiled cable has been tested by many technologies, including data transmission stability, the cable is strong and durable, the coiled cable has good resilience, and the joints are welded firmly, it will be a perfect replacement for your OEM or original cable , with excellent performance, pure copper is chrome, copper needles and copper core are plated with 24K gold wire, highlighting high-end and texture.

【Widely Compatible】The data cable adopts the USB-C interface design and turns to the USB-A end. Type-C is widely used on most keyboards, so you don't need to worry about compatibility issues. Suitable for all kinds of mechanical gaming keyboards, type-c mobile phone charging, classic type-c, etc. Compatible with 99% of concave designs.
【Type-C data transmission and charging】 The USB C cable around the coil can be used for the connection of the cherry shaft mechanical keyboard, making the data transmission and connection more stable. Of course you can also use mobile phone charging. As long as it is a Type-C port, you can use this line.

【USB-C stable and fast connection】Compatible with USB 2.0/3.0, using high-quality copper wires, with aluminum shielding foil, solid and durable materials, not afraid of bending, no rupture, high-quality conductive data materials, ensuring The connection is more stable and no delay.

【Metal Aviation Connector】 Pilot connector can help you connect different cables to the keyboard or other accessories. Pure copper is chrome, copper needle and copper core are plated with 24K gold wires. Highlight high -end and texture.

【Customized reverse coil design of the custom -made cable】The tray and cables around the keyboard and cables more substantially prevent damage to the cable caused by excessive stretching. The self -locking structure is very easy to connect to the automatic core drive connector.

【Extensive use objects】The keyboard cables around the coil can be compatible with most USB C mechanical games keyboard. At the same time, they can also charge your C -shaped port mobile phone or Bluetooth headset. Fully meet your requirements for the line length.